* note: recent updates at end of this post!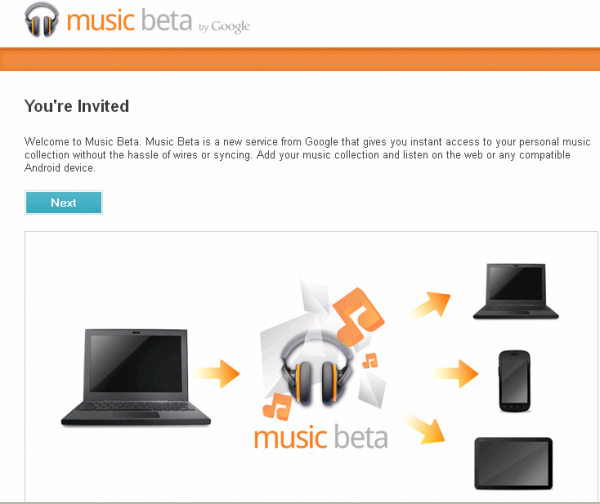 So many months and weeks had passed since I requested an invitation to Google's cloud based music project I had nearly forgotten all about it. I was surprised to see the invitation arrive in my email around mid-June. Since I've been keen on developments of digital music since the early era of mp3 encoding, and more recently very curious about cloud based, bulk storage projects like Amazon's and now Google's, I didn't hesitate for a moment in setting this up. In the past few weeks of using it, I've found it surprisingly useful.
The email invitations to music beta (MB) contain a link to http://music.google.com which requires a Google Account. Upon logging in, if your account is clear for immediate use you'll see a screen like this one. In most cases, unless you've made the request and have received an invitation you'll have to wait. I'm not aware of participant invitations being available, at least I haven't found any in the account I'm using. However it seems more recently requests are being turned around quickly. Through one of my numerous Google accounts I received an invitation within 5 days.
Once signing in for the first time some prompts are presented, the first few are obligatory legal items. The third or so prompt offers "Add free songs to your Music library" by genre. I chose a couple  of these but haven't been happy with what ended up being offered. Unfortunately I haven't found a way to dismiss any of the suggestions from this other than deleting the entire album, songs, or artist added to the library. If you're finicky about your music collection I'd recommend skipping through this item.
The next item offers a download of the Music Manager. At the time of this writing this is the only means to upload music to an MB account. If you happen to skip this item, or need a download for a different OS type, you can use the direct link here.
Google's music beta is composed of three separate interfaces, one of which is optional. There's the Music Manager client, the web interface via a Google account, and the optional mobile phone client which at this time is available for Android based phones only (yet this article offers an easy solution to use the web interface on an iPhone).
The Music Manager client requires a music folder, which can be a pre-existing iTunes or Windows Music folder. I configured mine to use /GoogleMusicManager on a Mac so I could ensure nothing would be changed with the music I put here. After uploading a mix of a couple thousand .flac, .mp3, and .m4a (see supported file types here) I can assure you gentle reader nothing is modified in this folder, it's used only as a pickup point. What I've been doing is dropping copies of items from my main music library (a jukebox on a separate LAN based server) to this location.
The other setting on the Music Manager is for throttling and upload frequency. What I hope to see in a future release is scheduling –taking notes from the excellent mozy backup client would be good here.
Here are a few quick updates on music beta:

1/31/2012 – Google Music Now Lets You Download All Your Saved Music (via Lifehacker)

http://lifehacker.com/5879732/google-music-now-lets-you-download-all-your-saved-music

A plugin for Firefox and Chrome is available which adds a download feature!

https://addons.mozilla.org/en-US/firefox/addon/google-music-downloader/
https://chrome.google.com/webstore/detail/ipfnecmlncaiipncipkgijboddcdmego

Ogg is now supported!

http://linux.slashdot.org/story/11/07/23/0443231/Google-Music-Adds-Linux-Ogg-Vorbis-Support

The Magnifier blog!

http://magnifier.blogspot.com/

The Music Manager supports Linux!

https://www.google.com/support/music/bin/answer.py?hl=en&answer=1229972&topic=1100183